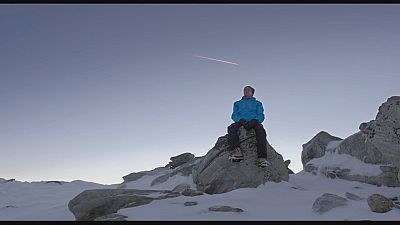 A decade after his Oscar-winning documentary 'March of the Penguins', French director Luc Jacquet is back with 'Ice and the Sky'.
It tells the story of French glaciologist Claude Lorius, who first went to the Antarctic in 1956, and his extraordinary life devoted to unravelling the world's climatic secrets by digging deep into the ice.
Euronews' Frédéric Ponsard met Luc Jacquet at the Institut Lumière in Lyon, where his film was previewed ahead of its release.
"Claude Lorius and I experienced more or less the same thing forty years apart. Just like him, I saw a poster here at the university of Lyon, which read: 'Student needed to spend the winter in Antarctica.' And just like him, I thought 'Oh, I'm going to go on an adventure to Antarctica'… And then, in the end, it took me much further than that. For him it was science, for me it was cinema," Jacquet said.
In all, the scientist-turned-explorer covered 22 expeditions to both poles over the course of nearly thirty years. A tenacious and courageous man, he alerted authorities and the media about man's role in climate change in the face of strong scepticism.
"His life got mixed up with history at large," explained Jacquet. "Claude experienced a crucial moment, when humanity completely changed its relation to the world, and it's partly thanks to the scientific data he discovered that people understood that they couldn't continue behaving the way they did in the Fifties."
"I wanted to examine the question of climate change not by proposing yet more data on the issue, but through the eyes of a character. Of course, my film is political, the goal is to raise awareness about what's going on."
Presented out of competition at the Cannes Film Festival, 'Ice and the Sky' is out across Europe this autumn.