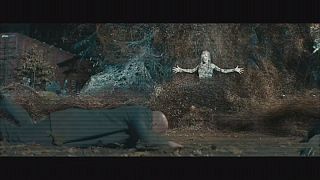 Vin Diesel stars as Kaulder in the film The Last Witch Hunter. His battle with the all-powerful Queen Witch ends with him being cursed and forever separated from his wife and daughter in the afterlife.
The movie has just had its premiere in New York City where the film's director Breck Eisner explained Vin Diesel was ideal for the part.
"There is only one actor who could be in this movie and be the lead of the movie. It was Vin. It was either Vin Diesel, or no movie, ans that's true. It was written for Vin, the studio wanted him and I wanted him. So I really had to hope he really wanted to do the movie , luckily he did," he told reporters.
The actor explained it was the type of role he had always wanted to play.
"Well, the irony is , this is something that I've wanted to do. I have wanted to enter into the fantasy world. And the idea that this script both live in, you know, the pre-modern civilization and simultaneously in present-day New York City was challenging, compelling and I felt made for a really unique character."
To accomplish his mission Kaulder decides to team up with a beautiful witch called Cloe, played by Rose Leslie. The pair are joined by Elijah Wood who worked with Vin Diesel for the first time.
"I 'd never worked with him before, I'd never met him before. He's got a big personality but he's not intimidating, he's very friendly with everyone. He's kind of a big softie," said Wood while Rose Leslie said she was impressed with the whole set up.
"It's pretty epic, particularly on this movie. I mean, I was blown away by the art design and the set, and within the kind of like the witch's nest, so the rather demonic evil witch she has this incredible, like these leaves and these dead rotting trees inter-weaved with one another. I mean it was a colossal stage."
Witches of course are still with us and its up to Vin Diesel to get the problem sorted and he does in turbo diesel fast and furious style.
Michale Caine also stars in the film which will be released around the globe in the coming weeks.