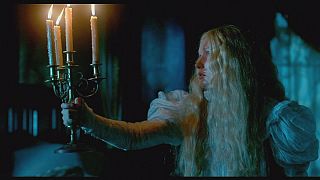 A crumbling mansion in Cumbria, northern England in the late 19th century is the setting for Crimson Peak, a film of dark secrets and a ghostly atmosphere.
The story centres around young author Edith Cushing who falls in love with a knight of the realm, Sir Thomas Sharpe. But all is not what it seems in a movie in which the director set out to twist the traditional male and female roles.
"Well you know I made it a point to make every man in the movie useless. Normally in Gothic romance you end with Fabio carrying the girl without a shirt and rescuing her from imminent danger and I wanted to sort of actualize the genre a little bit and make the female roles the central roles," explained Guillermo Del Toro.
Tom Hiddleston, who plays Sir Thomas Sharpe believes the director's decision gives the movie power.
"I really admired him when he talked, quite early on, about subverting expectations about Gothic romance. You know in many of these stories, the heroine is saved by the hero, and in this story the heroine saves herself. And I think that's very powerful," he said.
Haunted corridors, faded elegance the old mansion called Allerdale Hall takes on something of a character itself in the film. The realism says actress Mia Wasikowska who plays the young author Edith Cushing helped inform her performance.
"It's sort of becoming increasingly rare to be on a film where the've actually built the set, so to be able to actually be in that space and with it in its actual proper layout and walk through the kitchen and then the elevator works to go up to the top floors. It was quite, you know, I've not had that on a film before, that sort of extent of realism," the actress opined.
Crimson Peak is in cinemas worldwide now.