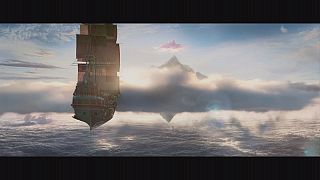 Starring Hugh Jackman as the legendary pirate Blackbeard and Rooney Mara as Tiger Lily, Pan is a live-action prequel of J. M. Barrie's classic novel.
The film reimagines Pan as a young boy orphan in a bleak World War II orphanage, who is whisked away to a fantastical world of pirates, warriors and fairies.
Australian newcomer Levi Miller is cast in the role of Peter and has received critical praise for his performance.
The movie initially drew accusations of whitewashing after actress Rooney Mara was cast in the role of Native American character Tiger Lily.
As director Joe Wright explained at the film's London premiere, he wanted to make a film that was both entertaining but also portrayed a very special relationship: "At the heart of it, it had a very intense personal story about a boy looking for his mum, and having just become a parent myself and watching that love between son and mother, I wanted to make a film that bore witness to that relationship."
Wright said that after reading the original source material, he was surprised to discover that it was a lot richer and darker than he had imagined, and that there was a strange psychological level to it that he wanted to include in the film.
Speaking at the premiere, Hugh Jackman said the film provides an interesting perspective on the world of adults: "Neverland is a child's imagination, it's a dream, and adults therefore are seen from a children's perspective, which is frightening and ridiculous. So there was no wrong, there was only right and we spent weeks actually creating the characters and the dynamic, and I loved doing that with Joe, it was great."
The film has received a luke-warm welcome by critics who deplore the overuse of sophisticated special effects which in the end produces no magic at all, as well as the odd repositioning of Peter Pan's emergence to World War II.
Others, however, describe it as a fun and exhilarating ride that will likely hit home with kids who have never experienced Barrie's world before.
'Pan' releases worldwide this autumn.