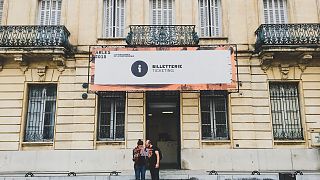 The renowned photo festival Les Rencontres d'Arles closes its doors this weekend and this year's exhibitions were, like the town itself, remarkable for leaving a lasting impression.
Arles is a typical example of the postcard image many have of the French south. Here you can enjoy the running of the bulls, eat fine, simple and tasty cuisine and drink in the environment in which Vincent Van Gogh created some of his most famous works.
For 45 years, Les Rencontres d'Arles has had a special place amongst photographers as a launchpad for new talents. This year however, much of the work on display was not purely for purists. The festival explored many contemporary, social and scientific issues via investigative and thought-provoking reportage.
Each year the festival plays hosts to several photographers, whose names are associated with the establishment of photography as art and this year didn't disappoint. However, there were notable contributions from some photographers who sought to make the everyday seem exceptional.
American Stephen Shore showed why he's widely considered a pioneer. His high quality colour images of ordinary life, travels, and cooking were strangely reminiscent of images found nowadays on Instagram, making it hard to believe he produce his work more than 30 years ago.
Also to be recommended is the exhibition of Paolo Woods and Gabriele Galimberti "The heavens, annual report". The project investigates the opaque places of power – so called safe haven for investments – Panama, Cayman Islands, Switzerland and others. Great investigative and photography work and a nicely designed showpiece to boot.
Three series from the private collection of Parisian Jean-Marie Donat were exposed at Chapelle de Charite. A central figure in one of the series – an animator dressed as a bear to pose for a family portrait at a German holiday resort.
The collector first found one image of such a family photo, then another, then more… Finally we can see some dozens of images from the period of before and after the war. Look how the exposition stands work with the interior of the building.
Old workshops of the French railway in Arles became a great venue for the exhibition although the severe hot weather made it quite hard to breathe inside. Yet the new artists' works perfectly match this 19th century building. Great fun was an exhibition Thierry Bouët called "Personal affairs". The photographer contacted people selling their stuff at the biggest French site for small ads. Here are some great photos and catchy stories. For example, you can learn who and why a coffin previously used for decoration was for sale…
There are some interesting archives of postmodernism architects Robert Venturi & Denise Scott who carried out urban field research in Las Vegas of the end of 60's. It's a detailed view of the city's urban landscapes which transmit the atmosphere of that time.
Inspired by the aforementioned work Olivier Cablat collects a series of images of vans and buildings, normally used as shops or fast food caterers, in a number of different shapes – animals, hotdogs, oranges, sharks and hundreds of others. You would be surprised by his creativity and amused by some of the artist's captions. A shop building in the shape of duck made its way right to the exhibition hall, a visitor can hide inside to listen to music and reflect over everything he/she has seen.
And finally, if you do make it to this beautiful city in time, please use a free guide for the exhibition tour; it's absolutely worth it.