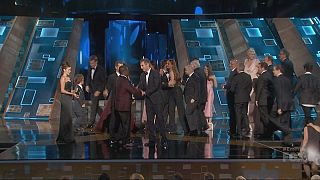 It was a big night for 'Game of Thrones' at the 67th Annual Emmy Awards, where HBO's fantasy hit picked up the highest honor of Outstanding Drama Series.
With a total of 12 Emmys, including Outstanding Writing, Outstanding Directing and Outstanding Supporting Actor, Thrones broke a major record by surpassing 'The West Wing', taking home more wins in a single year than any other show.
Political satire 'Veep', also from HBO, picked up four awards including Best Comedy Series and Best Actress for Julia Louis-Dreyfus, her fourth consecutive win.
The series' creator Armando Iannucci accepted the award on behalf of the show: "If Veep is about one thing it's about hope, the hope that anyone in America no matter what their background, their race, their creed, anyone if they work hard can just miss out at getting the top job," he joked.
'Veep' has long been an industry favourite but was seen as a dark horse for the top series win. Its victory breaks the stranglehold of sitcom powerhouse 'Modern Family', which had won the top Emmy for the past five years.
Viola Davis made history when she became the first African-American woman to win an Emmy for Best Actress in a Drama Series.
"Let me tell you something," she said in a moving acceptance speech, "the only thing that separates women of colour from anyone else is opportunity."
In 'How to Get Away With Murder', Davis stars as a law professor at a prestigious Philadelphia university who becomes entwined in a murder plot with five of her students.
Jon Hamm finally broke his infamous losing streak, picking up the Outstanding Actor in a Drama Series gong for his performance as the emotionally hollow advertising executive in the concluding stretch of 'Mad Men'.
Accepting the award, the 44-year-old actor joked about this long-awaited moment: "There's been a mistake, clearly."
Premiering on AMC in July 2007, 'Mad Men' is included in critics' lists of the greatest television series of all-time. After seven seasons and 92 episodes, the series ended in May this year.