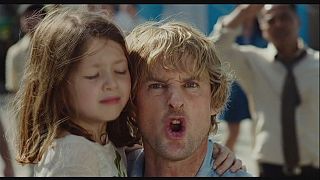 "No Escape", from writer-director siblings John and Drew Dowdle tells the tale of Americans-abroad in a nondescript southeast Asian country.
All is well for lead actors Owen Wilson and Lake Bell, who have relocated their on-screen family to Asia, until a coup breaks out, but luckily ex-Bond star Pierce Brosnan is on hand to guide them through the mayhem.
Comedy staple Wilson used his experience of playing an average dad to draw in the audience before he turns into an unlikely action hero.
"Doing those scenes in the beginning where you just sort of see a family that is kind comfortable with each other, I think that as I was doing those scenes, they felt very familiar because I've done those in other movies and then the rug just kind of gets pulled out from under my character and I think the audience also, because everything starts to happen really fast."
Playing against type was a deliberate choice for the two comedy stars as Bell explains.
"It lulls the audience into a false sense of comfort, so you think: it's not going to get that bad. It's these guys, you know. And then it just gets that bad. And you're so invested in a different frame of mind that it's unnerving and kind of exciting."
Bell, literally threw herself into the role of the terrified mother, opting to do many of her own stunts.
Even after injuring her back on the second day of filming, the actress said she "soldiered on."
It has been more than a decade since Brosnan played Bond, but "No Escape" allows him another taste of action.
"It's a real rollercoaster ride and it's about a family and these hellish, dangerous conditions. And I play a character who's fractured, broken and comes in and redeems his whole life," he said attending the film's US premiere.
The movie has met with mixed reviews, with many critics panning what they say is the film's xenophobia. It has even been banned in Cambodia over the use of Khmer script on riot police shields.
No Escape review: Owen Wilson and Lake Bell suffer boggle-eyed panic attack http://t.co/DwDPqDhNZG

— Guardian Film (@guardianfilm) August 28, 2015
Film Review: "No Escape," with Owen Wilson, is taut but deeply troubled, jakecoyleAP</a> writes: <a href="http://t.co/CqZGUp9c4c">http://t.co/CqZGUp9c4c</a></p>&mdash; The Associated Press (AP) August 26, 2015
.NoEscape</a> kicked off its box office run with $1.2 million on Wednesday <a href="https://twitter.com/hashtag/MovieNews?src=hash">#MovieNews</a> <a href="http://t.co/EIm0TXqE7D">http://t.co/EIm0TXqE7D</a></p>&mdash; IMDb (IMDb) August 27, 2015
The film will be on European screens from 2 September onwards.
Other release dates
Canada 26 August 2015
Philippines 26 August 2015
USA 26 August 2015
Singapore 27 August 2015
Pakistan 28 August 2015
Turkey 28 August 2015
France 2 September 2015
Chile 3 September 2015
Denmark 3 September 2015
Hong Kong 3 September 2015
Iraq 3 September 2015
Lebanon 3 September 2015
Portugal 3 September 2015
UK 4 September 2015
Ireland 4 September 2015
Iceland 4 September 2015
Lithuania 4 September 2015
Sweden 4 September 2015
Japan 5 September 2015
Italy 10 September 2015
Taiwan 16 October 2015
Greece 29 October 2015
Netherlands 29 October 2015