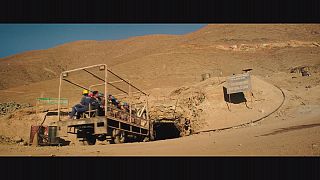 Trapped for 69 days under a collapsed mine before being rescued alive. It was being spoken of as a movie even as the last of the Chilean miners was saved in 2010.
Now the real-life drama, "The 33", directed by Mexican
filmmaker Patricia Riggen is out.
Spanish actor Antonio Banderas and French actress Juliette Binoche star in the film that goes from disaster in the desolate Atacama desert to the miners' globally televised rescue.
Cast members appeared at a press conference in Mexico City to promote the film's release there this week after a fifth anniversary opening in Chile.
The cast says the film serves as a reminder of the tough working conditions for miners around the world.
"Beyond the film and the emotions it brings, we want this to be a homage to not only the 33 miners and their families who literally defeated death, but (an homage) to the mining community around the world, and hopefully this film will help improve the conditions of such a dangerous job," says actor Juan Pablo Raba.
The film is based on the real events of the 2010 mining disaster.
Many other things were going on in the world at the time, but as this dogged rescue unfolded it gripped news audiences around the world, who tuned in to hear the latest progress.
"We spent many hours inside (the mine.) We endured cold and heat and we would spend many hours in there. And some of what director Patricia Riggen accomplished was that we would feel a little of what those miners lived through five years ago," says actor Mario Casas.
Banderas plays Mario "Super Mario" Sepúlveda, who sent videos to the rescuers to notify them about the miners' condition.
This adaptation is based on "Deep Down Dark" by Héctor Tobar .and was entirely shot in English.
https://en.wikipedia.org/wiki/2010_Copiap%C3%B3_mining_accident
http://www.theguardian.com/film/2015/jul/29/the-33-trailer-antonio-banderas-film-chilean-miners-rescue
More Release Dates:
Chile 6 August 2015
Colombia 20 August 2015
Brazil 29 August 2015
USA and Canada 13 November 2015
Lithuania 16 November 2015
Singapore 19 November 2015
Portugal 26 November 2015
Spain 22 January 2016