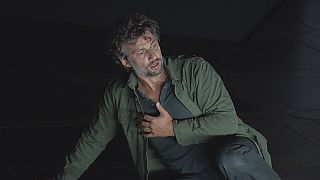 It is one of the highlights of this year's Salzburg Festival: The new production of Beethoven's "Fidelio".
On stage, there's a remarkable cast including the much sought-after German tenor Jonas Kaufmann who incarnates Beethoven's tragic hero: the political prisoner Florestan.
The Vienna Philharmonic, under the baton of maestro Franz Welser-Möst, can be found down in the orchestra pit.
Beethoven's hymn to freedom and humanity was his first and only opera.
"The way in which the orchestration is produced, is simply brilliant. It's as if Beethoven takes you by the hand and step by step he leads you down into the prison. It gets darker, wetter and more frightening until you get to the darkest dungeon of them all, Florestan's cell," explained Jonas Kaufmann.
"Fidelio" takes its inspiration from a true story set during the French Revolution. Against all odds, heroic Leonore tries to save her husband.
"Often opera roles for women are (full of) fainting, and collapsing and of course dying, most of us die so this is a really interesting role. It's very different, it's very courageous, very strong," said Canadian soprano,Adrianne Pieczonka.
This production presents a different approach to the masterpiece – with no happy ending.
"I have always had a difficult time with the fact that the vocal part of Florestan is
so powerful and he appears so healthy…In this production, with director Claus Guth, we decided that Florestan is actually a broken man, that the torture and the solitary confinement that lasted for years have left their mark. He doesn't recognise Leonore as his wife anymore. He is not able to liberate himself from these symbolic 'chains' that he has in his head," stated Kaufmann.
"Beethoven, I think, wrote for the voice – the tenor and soprano voice – very instrumentally. You can think like a trumpet or maybe a violin and sometimes the human voice is not that perfect so that's what the challenge is: I think Verdi or Strauss or Wagner wrote more natural lines. Beethoven's are kind of angular and it's more difficult," explained Pieczonka
Kaufmann offered his own insight into the opera:
"It is about visionaries – Beethoven was a visionary in many aspects. It is also about the vision of freedom, peace on earth – all that, which we still haven't achieved many, many years later. Also back then it was of course only an illusion, but he still demonstrated his visions in his music with passion and fervor over and over again."