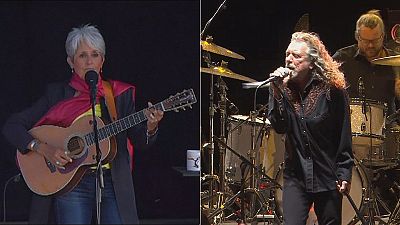 Rock legends, big hitters, 'sacred monsters' of the music world strutted their talents at this years Paleo Festival in Nyon, Switzerland.
Patti Smith, godmother of punk, multi-talented artist, writer, painter and photographer returned to the period of her first triumph and the album 'Horses'.
She sang tracks from the album recorded 40 years ago by John Cale of the Velvet Underground and which catapulted her to fame.
Paleo started in 1976 as a Folk Festival and this year fans were treated to the appearance of a folk legend.
She is 74 now but Joan Baez has remained true to her values and ideals which have underscored her songs since she started performing back in the 60s.
She was responsible for making traditional English and Irish songs fashionable and of course for introducing the politically committed voice and guitar of Bob Dylan to a wider audience.
A musical contrast but just as much a legend is Robert Plant who has enjoyed a near 50-year career.
The former front man of the iconic Led Zeppelin was on stage with the eclectic group of musicians The Sensational Space Shifters with whom Plant has created a serious buzz on the concert and festival circuit.
Another rock legend who has clocked up half a century banging out the hits is rocker Johnny Hallyday.
It was a memorable performance from the Frenchman with that powerful voice backed by a stage presence full of energy and determination.
But for many who were present in the audience he will always be the teenager in the leather jacket and the blond rockabilly haircut.