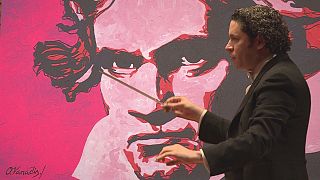 Once again Gustavo Dudamel has inflamed audiences and hearts! The charismatic Venezuelan conductor recently performed, for the first time, the whole cycle of Beethoven's symphonies in Bogotá's Teatro Mayor.
I think that Beethoven has been a part of us since we were kids, since we joined the orchestras for children and played the first movement of the Fifth.
Under his baton was the energetic Simón Bolívar Orchestra, the crowning achievement of El Sistema, the world renowned programme of social uplift through classical music.
Symphony No. 1 and No. 2 were the first installments of the precious gift Maestro Dudamel enthusiastically offered his Colombian admirers.
9 symphonies, 4 nights: #BeethovenCycle w/ Bolívars TeatroMayor</a> <a href="https://twitter.com/hashtag/Bogot%C3%A1?src=hash">#Bogotá</a> <a href="http://t.co/BlALtK8eJ4">pic.twitter.com/BlALtK8eJ4</a></p>&mdash; Gustavo Dudamel (GustavoDudamel) 16 Juillet 2015
"There is first of all an historic relationship with Colombia. Venezuela and Colombia are brotherly countries," he told Musica.
"Simón Bolívar, who enabled us to become independent, turned us into brothers. Bolívar and Beethoven lived in the same period, and I think that they shared the same ideals: and that's what makes this cycle so very special!"
Beethoven in the blood
Dudamel said his homeland had special connection to the great composer: "I think that Beethoven has been a part of us since we were kids, since we joined the orchestras for children and played the first movement of the Fifth, for example. He's a sort of symbol of our own, a symbol of hope, of hard work, of many dreams to come true. And, of course, something to share with our brotherly countries and the rest of the world."
"When these symphonies were being composed Beethoven was still looking for himself, although one can glimpse "sparks" of his being already a great genius. So one of the challenges for the orchestra is to make this music sound like Beethoven… because it is Beethoven, it's not his model Haydn!"
"Brotherhood, sharing love… all this makes so much sense especially today when the need to create bridges among peoples is so strong; every day, instead, we build new frontiers, not bridges. Music is a universal language. And the most universal music is Beethoven's: he's the one who celebrated brotherhood… and shared, universal, happiness!"
For more excerpts from our interview with famous conductor Gustavo Dudamel please click on the following link
Rehearsing with the Simón Bolívar, an orchestra like no other
Musica's Luca Vitali meets maestro Gustavo Dudamel at @teatromayor in #Colombia. Watch it now http://t.co/BBsRo3mUdnpic.twitter.com/LGm2Q26bUS

— euronews (@euronews) July 24, 2015