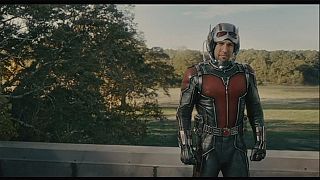 Just in time for summer, Marvel Studios are launching their latest superhero movie 'Ant-Man'. Its star-studded cast made up of Paul Rudd, Evangeline Lilly and Michael Douglas hit the red carpet in Los Angeles for the film's world premiere.
'Ant-Man' stars Rudd as master thief Scott Lang, who, armed with the astonishing ability to shrink in size but grow in strength, must embrace his inner hero and help his mentor, played by Michael Douglas, pull off a heist that will save the world.
The big-budget action flick was a dream come true for Rudd, who has mostly starred in comedies and indie projects: "I dreamed about it when I was a kid, but not in like a movie, just in real life, I would run around the house kind of with a towel on like it was a cape. But I stopped doing that by the time I hit 20," he joked at the film's premiere.
"He is such an amazing dramatic and comedic actor, there is an inherent absurdity to Ant-Man – he shrinks and he controls ants – and Paul is so great as that character, acknowledging the weirdness of the basic idea," enthused the film's director Peyton Reed.
Evangeline Lilly portrays scientist Hope Van Dyne, who, together with her father played by Michael Douglas, creates the shrinking technology used by Ant-Man.
"It's a really accessible film. It's a really innocent film and it's a really beautifully emotional film about fathers and daughters. So I love it. I'm really proud of this movie," she said.
Marvel Studios' 'Ant-Man' starring Paul Rudd, Evangeline Lilly and Michael Douglas opens worldwide this summer.