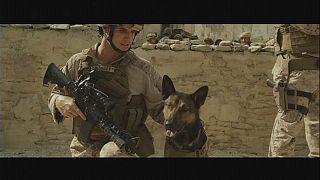 After his Marine partner is killed in action in Afghanistan, military working dog Max is unable to remain in service.
Back in the US, the only human Max is willing to connect with is his former partner's teenage brother, Justin.
Oscar-nominated actor Thomas Haden Church, who plays the boy's father, says this film salutes the importance of working military dogs: "People are aware of war dog units and service dogs. They are aware of them peripherally… But how critical their actions are in battle, in firefighting, how they are trained to relentlessly pursue saving lives and hunting the enemy quite frankly.
"I just thought, 'That's a story that is so unique and needs to be said out loud.' It starts off a wartime drama and becomes a family drama, but the wartime elements are critical to telling our story."
Justin Wincott is played by rising teenage talent Josh Wiggins, who shot to fame in last year's 'Hellion'. Max was actually played by six different pooches and Wiggins says he really enjoyed having a chance to share the scenes with them.
"(The) animals are fine. I mean they were incredibly well-trained. The trainers could tell them to put their tongues back in their mouths and they did it," he said with a smile.
"I was fairly involved with some of the training, with giving them the treats so he could pay attention to me sometimes. And I would give some of the commands and stuff like that. But most of it was the trainers."
While the film isn't expected to be a career high for any of its human participants according to some critics, it might prove a nice enough family outing this the summer. 'Max' is on global release from now.