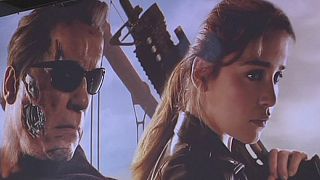 The stars were out in full force for the European premiere of 'Terminator Genisys' in Berlin.
Arnold Schwarzenegger, who reprises his iconic role as everyone's favourite robot assassin at the age of 67, talked about how it felt returning to the series launched back in 1984.
"I'm having a great time with this movie. I'm in good shape. For me it is no problem to do stunts and to do the action. Nothing has changed," said the actor-turned-politician-turned-actor.
Like in the original 'Terminator' movie, John Connor, this time played by Jason Clarke, sends his trusted lieutenant Kyle Reese back to 1984 to protect his mother from a Terminator assassin. But an unexpected turn of events creates an altered timeline. Game of Thrones' star Emilia Clarke is cast in the role of the mother.
"It's incredible," she said. "Arnold's reprising this role, he's added so many more textures to it with the fact that our script has an already built-in human relationship between himself and Sarah, so you get so much more of a human element added to that relationship, which I think makes it new and fresh in a really good way."
"Nothing is more surreal than the moment when you take the work out," said director Alan Taylor. "You have been working in private for a long time and all of a sudden you realise that all of this is going on (referring to the red carpet premiere), that's the moment when you can pinch yourself. I think the first night on set with Arnold, when he came out and he was doing his thing, I had to pinch myself a little bit."
The Terminator franchise has taken more than US$ 1 billion over three films at the box office worldwide since the original was released in 1984. A fourth film came out in 2009 but without Schwarzenegger who was then governor of California.
'Terminator Genisys' is on global release from the end of June.
Paramount has announced it will be the first film in a new trilogy, with two sequels scheduled for release in 2017 and 2018.