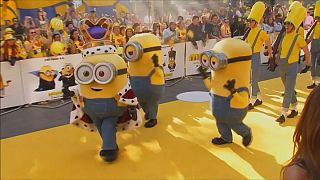 The Minions, co-stars of Despicable Me and Despicable Me 2 take centre stage in their very own movie.
The film traces the development of the cute yellow perils as they do their very best to serve some of histories most notorious masters.
The film is directed by Kyle Balda and Pierre Coffin.
Kyle Balda says they are more than just creatures:"I think that when we worked with the Minions we were trying to give them lots of qualities that are quite human you know, they are not just creatures, they are thinking, feeling, they are mischievous. I think there is a lot of personification that people can project themselves on to them."
Co-director Pierre Coffin enjoys the way they communicate:"The magic thing to them also is that they speak this weird language, but hopefully everything is understandable even though you don't understand the proper words."
Minion Kevin and his Minion mates Stuart and Bob go out in search of a new evil master and discover female super-crook Scarlet Overkill voiced by Sandra Bullock.
The film goes on release through June and July.