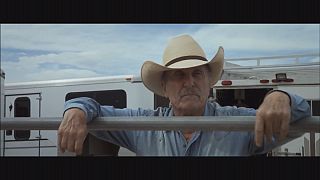 'Wild Horses' sees Robert Duvall back in the directors saddle for a movie that explores the complex relationship between a father and son all within the genre the Oscar winner loves, the Western.
Duvall outlines the plot: "He can't accept reality so he kicks his son off the ranch because his son is gay and 15-years later the son comes back, they make amends. He comes back for the reading of the will. But in the meantime somebody has disappeared, supposedly the lover. It's a closed case, a cold case, which is never really completely closed by the Texas Ranger. It is reopened by the disappearing boy's mother."
Duvall's character has been estranged from his son Ben, played by James Franco, for 15-years after he discovered him having sex with another boy in the barn. Ben's boyfriend, Jimmy, has been missing ever since.
The film was shot in a mere 23 days:"It worked out. James Franco gave me five days, and I gave him two afterwards for his project. Josh Hartnett came and he was wonderful to work with. Josh is very giving," said Duvall.
An inquisitive female Texas Ranger tries to get to the bottom of the case.
She is played by Duvall's real life wife, Luciana Pedraza:
"She is very bright. She has her own set of rules, but it was fine. She was terrific.She was very supportive but she had her own ideas and she did her research."
As well as acting and directing Duvall wrote the screenplay.
'Wild Horses' is currently on release in the US.