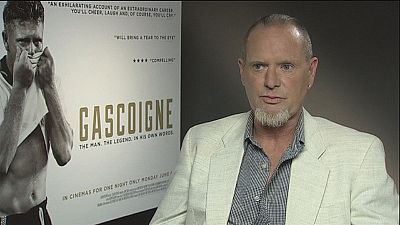 Twenty five years have now past since the global football audience witnessed England international Paul Gascoigne bust into tears during the World Cup semi-final in Turin, at Italia '90.
'Gascoigne' is directed by BAFTA-winner Jane Preston, a documentary which focuses on the story told by the man himself.
As a boyish cheeky chappie he lit up the football firmament for a few short years before falling into an alcohol fueled downward spiral, a battle, which continues today.
'Gazza' is no stranger to life's darker side; domestic violence (he was arrested for an attack on his ex-wife Sheryl), divorce, rehab, and legal problems.
The former player takes up the story:"Twenty years I played football, but I had other problems when I was such a young lad. I had to battle all that time I was young and no one knew what I was going through, because when you are young you don't know what to say or you feel embarrassed. I don't feel embarrassed, because my life has been well, I've got nothing to hide, nothing. Regardless, of whatever happens with me from now on in, But I think I've done well to cope with it."
It is a struggle that has been brought into sharp focus by the attentions of an avaricious tabloid media.
Under such scrutiny 'Gazza's' dignity has been on the line.
The former player recently won €255,000 in phone hacking damages from Mirror Group Newspapers a stark example of how the media have tried to exploit his difficulties.
Though the film looks at Paul Gascoigne in his own words there are contributions from other football notables; Jose Mourinho, Wayne Rooney and Gary Lineker.
'Gascoigne' is released globally on DVD on June 15.