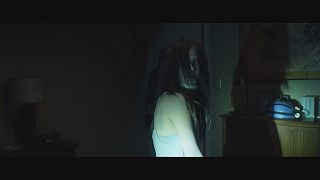 Insidious: Chapter 3 is the latest installment of the supernatural horror franchise, and this time it's a prequel, explaining how the family came to move into a haunted house.
The first two chapters were directed by James Wan, but this time there's a new face at the helm. Leigh Whannell described how it felt to follow in James Wan's footsteps: "I needed to make the film that I would make if I was shooting an 'Insidious' film. I didn't want to copy James or try and replicate what he had done. Obviously it needed to exist in the same world and same universe but it didn't have to be exactly the same as James' film so I just tried to push ahead and do it in my own style and I kind of really focused in on this family and the demon I think in the film is different from what we've seen before, so there was a lot of things I think that were unique about this film."
Not content with writing the screenplay and directing, Leigh Whannell also appeared in the movie: "It was tough. I'm not a great multi-tasker so I really needed to separate things. I never liked doing everything at once. If I was directing, I didn't want to be dealing with the script, so I tried to take each job as if that was all I was doing. Like when I was writing the script, I wasn't thinking about directing the film, I really wasn't. I was thinking just make this a good script. And then when I was directing I tried to throw away that writer's hat and be ruthless about, 'let's change this, let's change that', that's something you become sensitive to as a writer, but I tried to be pretty strict about it. And then when I was acting I tried to forget about everything else – compartmentalizing it was the only way I could do it."
Insidious: Chapter 3 – the trailer
Insidious: Chapter 3 is on screens worldwide this summer.
Release dates are:
UK: 5th June.
Spain: 4 June
Italy: 4 June
Ireland: 5 June
Norway: 5 June
Sweden: 5 June
US: 5 June
Poland: 19 June
Greece: 25 June
Netherlands: 25 June
Germany: 2 July
India: 5 July
France: 8 July
Belgium: 15 July
Austria: 17 July
Australia: 23 July