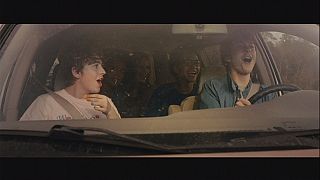 Paper Towns, starring Halston Sage, Cara Delevingne and Nat Wolff, is a coming of age tale.
Halston Sage explained the plot: "I play a girl named Lacey Pemperton and as soon as our friend Margo goes missing I decide I have to go and try to find her, along with her neighbour who is in love with her who I don't know very well. All I know is he's kind of the school nerd and that he also wants to go. So we're thrown into this van together. We don't know anything about each other and we go on this road trip to find our friend and along the way we learn that we're each complex human beings and not just what we appear to be based on looks which was a message which really resonated with me "
The film has been well received by critics who comment that the teenagers depicted seem very authentic.
Halston Sage agreed: "It's really hard as a 21-year-old to find an amazing, complex part like that. You know, you're either playing the pretty girl, the athletic girl, the goth girl, the slut, you're not ever a combination of things and he's really able to capture the multitudes that — that's literally a line in the movie is 'I contain multitudes' which is from another piece of writing and it's true. We all contain multitudes."
Paper Towns will be on screens this summer:
Belgium 17 June 2015
France 22 July 2015
USA 24 July 2015
Hungary 30 July 2015
Portugal 30 July 2015
Ukraine 30 July 2015
Romania 31 July 2015
Germany 6 August 2015
Austria 7 August 2015
Spain 14 August 2015
UK 21 August 2015
Check out the trailer