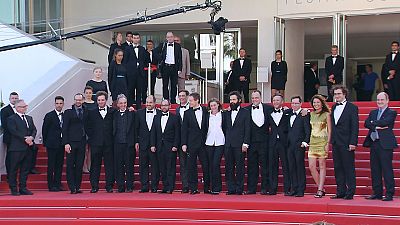 Having a film selected to compete at the Cannes Film Festival is quite an achievement. Having your first film selected is even more so.
"Son of Saul" by Hungarian director László Nemes has been very well received at the festival, becoming a front runner for a big prize.
The film is a violent, disturbing account of a little-known chapter of events in Auschwitz-Birkenau. A Hungarian Jew has been selected as a Sonderkommando, a group of trusted prisoners, who in return for tiny extra food rations, were forced to carry corpses out of the gas chambers, burn them and dispose of the ashes.
The film is harrowing and visually depressing, as director László Nemes intended: "We didn't want to make a pretty film, we turned away from any classic aesthetic approach. You won't find attractive compositions in this film, we refused to do that. This film isn't iconographic, you can't take stills from it. The dynamic is the important thing in the film, it's essential not to fall in to the sentimentalism of many Holocaust films."
One day, one of the trusted prisoners finds the body of his son in a gas chamber and decides to try and give his child a proper Jewish funeral, instead of incinerating him with all the others.
László Nemes explained that much of the subject matter was too appalling to show on screen: "A lot of the action happens off-screen but the viewers visualise it in their heads. It is in their imagination. And we try to show them a passageway to this off-stage action. That's the big question with this film: are we provoking things, emotions, impressions we cannot show any other way but through the imagination?"
The faultless performance of Geza Röhrig in the leading role is one of the film's strengths. We follow him, looking over his shoulder throughout the film. His gestures, actions, intonations, are all perfect. Geza Röhrig says he was based his character on a book by historian Gideon Greif: "It's called, 'We Wept Without Tears' and it's basically just eight interviews with former Sonderkommandos who are now living in Israël. There are twenty of them alive in the entire world, and eight of them are in Israël. And after decades of not talking about it, they started to share their experiences with this historian who interviewed them over thirteen years. Because they could only get the story out word by word. They didn't tell anyone, not even immediate family members, what they did in Auschwitz."
Son of Saul has been widely lauded by the critics and is a front runner for the Palme d'Or.