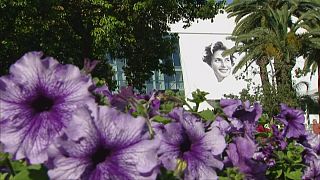 The unforgettable face of Ingrid Bergman, a star of Hollywood's Golden Era, adorns the official poster for the 2015 Cannes Film Festival.
More than 50 films make up the menu for the 68th edition with 19 in competition for the prestigious Palme d'Or.
This year the festival pays tribute to the Swedish star, born 100 years ago.
Thierry Fremaux is the festival director:
"This is the big Cannes democracy. Whoever has made a movie 
of at least one hour even with a smartphone can compete at Cannes for the selection process every film we receive is seen."
The festival opens with the film 'La Tete Haute' by French director Emmanuelle Bercot the movie focuses on the life of a young offender and sees Catherine Deneuve take on the role of a judge in a juvenile court.
It is the first time in three decades that Cannes has opened with a film directed by a woman.
Thierry Fremaux continues: "I like and I don't like that discussion about female directors. I don't like it when Cannes is accused because Cannes is equal. Cannes is the reflection of what cinema is and obviously the number of female directors is too low. It is not good. We need more female directors as we have a lot of female writers, novelists and so on and that discussion I like it, because we need to fight for that." 
Asian cinema is well represented at Cannes this year with three films in competition 'The Assassin,' 'Our Little Sister' and 'Mountains Depart May.'
All takes place under azure skies and the enigmatic gaze of Ingrid Bergman.