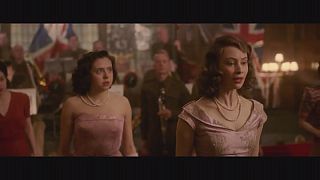 Set for release just two weeks after the birth of Baby Charlotte, the timing is perfect for 'A Royal Night Out', which tells the story about how princesses Elizabeth and Margaret were allowed to join in celebrations on VE Day in 1945.
Canadian actress Sarah Gadon, who stars as the future Queen, says about her role: "I think that's the thing about World War II, it made the world a lot smaller. My Nana fought in the Women's Auxiliary Air Force and she met my grandfather, who was sailing for the British Royal Navy, and they met during the war and married and they were in Trafalgar Square dancing and celebrating on VE night. So, to have that kind of personal connection to the material was really interesting."
"I thought I was in the war when I was a child because my family were always speaking about where they were after the war, what was happening and what was happening before the war. All that kind of stuff," said Rupert Everett, who plays King George VI.
Co-starring Emily Watson as Queen Elizabeth, the film is based on true events, which saw the young princesses granted permission to mingle incognito with the British people at the end of World War Two.
Newcomer Bel Powley, who plays Princess Margaret, has received critical praise for her performance. Asked what it was like shooting in Trafalgar Square, she says: "We were really lucky with the budget of the movie where we could have 400 extras and we locked off the whole of Trafalgar Square, there were flags everywhere, everyone was in full costume – it looked amazing."
Described by one critic as a brightly entertaining slice of imagined Royal Family history, the film is "unabashedly royalist" according to another, which adds that it's hard not to get swept up in the wonder that is Bel Powley.
'A Royal Night Out' is out in the UK on 15th May.