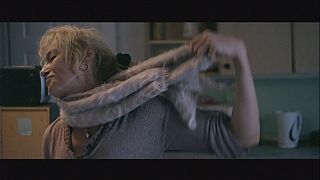 Irish filmmaker Gerard Barrett examines life in urban Ireland in his gritty drama 'Glassland'.
The 27-year old's second movie stars Irish actor Jack Reynor as John, a young taxi driver who becomes entangled in the criminal underworld in a desperate bid to unite his broken family and save his mother from addiction.
"I come from rural Ireland," says Barrett. "I moved to urban Ireland, Dublin, a couple of years ago and I just noticed a lot of young people parenting their parents, in a sense, and I noticed a lot of addiction going on around me. Don't get me wrong, there's a lot of addiction in rural Ireland also but you wouldn't have the volume that you have obviously in a city of a million people plus, and so I just wanted to shine a light on it," he adds.
Co-starring award-winning actress Toni Collette, the film was shot in just 18 days on a budget of less than half a million euros. Selected for the prestigious Sundance Film Festival, it won Reynor an acting prize.
He says elements of the story hit close to home: "I love my mum an awful lot and she loves me an awful lot, too, and we have a good relationship. But when I was a kid especially, when she was my age, it was very intense. So, you know, I could understand and relate to all those things and I just felt that it was a really important story to tell and something that people would potentially take a lot from."
The film has garnered mostly positive reviews with praise for the main actors' performances though some find the plot confusing.
'Glassland' is out now in the UK and Ireland.