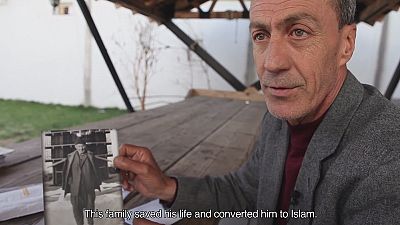 The banning of a Kurdish film at this year's Istanbul Film festival has overshadowed the whole event.
As a mark of solidarity other directors and members of the jury pulled films from the competition meaning the award ceremonies were cancelled.
This comes at a sensitive time in Turkey as Armenians mark the 100th anniversary of the massacres by the Turkish Ottoman Empire in World War I.
Two films related to this dark chapter in history were programmed.
Firstly the French filmmakers Anna Benjamin and Guillaume Clere showed their documentary set in modern day Turkey. In "L'heritage du Silence" ghosts of the past still trouble the lives of many people in Turkey.
Many of those Armenians who survived the killings which started in 1915 none-the-less lost their Armenian identity when they converted to Islam and became Turkish. One hundred years later their grandchildren find out that they have Armenian roots.
This documentary tells the story of four people who are trying to find out who they really are.
Film director and journalist Anna Benjaman's Armenian grandparents settled in Paris in 1915.
She said: "For us it is important to tell a story about the Armenian genocide that is really rooted in the present. What does it mean to be in Turkey today? What does it mean to be Turkish? What does it mean to be a Kurd? What remains of Armenian heritage in Turkey?
"For the last 100 years people said nothing and remained silent, the film really questions how this secret could have been kept for 100 years."
Between 100,000 and 200,000 escaped the massacre and remained living in their land. Rescued or kidnapped by Turkish and Kurdish families, hidden in the mountains of Anatolia, all were assimilated and forgotten.
"There is an official history that exists that is completely different from the history people lived through," Guillaume Clere says.
"But in the end it isn't a political film that says, you must acknowledge this, you need to give reparations, give back the land. It's a film where the people say: I want to know what happened to my grandparents."
The film portrays the suffering of Nazli, Armen, Dogukan and Yasar whose lives changed completely after they discovered the truth of their Armenian origins. This French documentary received a large amount of it's budget through crowd funding.
Homo Politicus
Turkish film director and journalist Haci Orman made a 20-minute film on the same subject, entitled Homo Politicus.
He said: "It was very difficult to get the crew together – as soon as they heard what the film will be about they got scared and pulled out. Thats why it took me almost a year to get all the film team together."
This is the first fictional film produced in Turkey about the Armenian killings.
It tells the story of German theologian Johannes Lepsius who wants to convince the most powerful general of the Ottoman empire, General Enver Pasha that the Ottomans must stop their "deportation" policy regarding the Armenians.
Orman said: "All books concerning the Armenian issues are either destroyed or banned in Turkey. Thats why I had to go to Germany and France to get access to archive material.
"But the biggest challenge was also to find a location to film, that was extremely hard because nobody wanted to give me a film location as soon as they heard what the movie is about."
The film shows a dialogue between two powerful men – one a militarist, a soldier from the east and the other is a theologian, a humanist from the West – Homo Politicus shows the naivety of pitting humanism against nationalism and morals against politics.