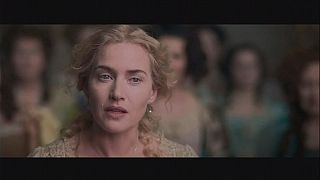 Actor Alan Rickman makes a rare foray into directing with "A Little Chaos", in which he also plays Louis XIV and is reunited on-screen with Kate Winslet, with whom he made 1995's "Sense and Sensibility".
Set in France in 1682 Winslet plays Sabine De Barra, a strong-willed and talented landscape designer, who is chosen to create one of the main gardens at Rickman's brand new Palace of Versailles.
Winslet described teaming up with Rickman again as "really, really wonderful."
"It was really, really wonderful, I have to say. To have known Alan since I was 19, which really is 20 years, it's really special to have remained in contact throughout those years. And obviously he's an extraordinary man and extraordinary actor and a wonderful director. So, when the opportunity came around to spend some time with him again in this creative way, it was just tremendously exciting," she said.
Winslet's character does not just deal with the challenges of designing and building a new royal garden, she also negotiates the rivalries and intricate etiquette of the court, as well as challenging gender and class barriers.
Rickman plays Louis XIV with unexpected compassion. Although the film is set in the 17th century, Rickman feels the story is still very relevant today.
"I hope that what people see after a while is that the period costumes fall away, metaphorically, and that you see that this is still a very modern story about a male-dominated world, a male-driven world, where women are decorative objects and judged by how they look, what they are wearing. It's a very equal relationship that she and Matthias work towards at the end of the film and a grown-up one," he said..
"A Little Chaos" also stars Belgian actor Matthias Schoenaerts as the King's landscape artist Andre Le Notre, who falls for Sabine.
The movie is out in the U.K. now, and gets a US release in June.