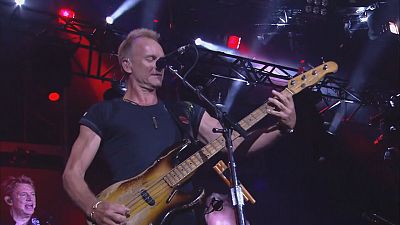 "The Police" are back – at least in movie theaters in the USA.
Can't Stand Losing You: Surviving the Police is a documentary based on "One Train Later", the memoir of the group's guitarist Andy Summers.
The film charts the band's rise, fall and reunion as seen through his eyes.
Summers, 72, likened his sometimes-biting analysis of lead singer Sting in the film to dishing on a beloved family member, rather than harboring any bad feelings.
"I really believe that at the end of the day, there's great love and brotherhood between us because we all experienced something quite incredible," Summers said.
Based on his 2006 memoir, "One Train Later," the film chronicles the history of the band – from Summers' perspective. It begins with the period before his chance encounter with Sting and drummer Stewart Copeland to the band's breakup and 2007-08 reunion tour.
The Police came on the scene during one of the most tumultuous periods in music history – mid-1970s London.
"If you weren't punk you were basically out. … We were definitely a fake punk band," Summers said.
The 72-year old rocker attributes the band's success to the perfect combination of musicianship and the unique sound of Sting's voice. But he also delves into the inflated egos created by the band's increasing popularity, and "after a few years and unparalleled success together, the fragile democracy has become a dictatorship."
In the documentary, Summers brings up an incident with Sting during the recording of the band's third album, "Zenyatta Mondatta," namely Sting's refusal to play on an instrumental track "Behind My Camel." He also claimed that Sting purposely hid the tapes after Summers recorded all the parts himself. That track eventually went on to win a Grammy Award for best rock instrumental performance.
"It's like in any band or marriage. Here you had three guys, three pushy guys, all vying for their space, wanting to be the guy. But you can't be because it's a trio."