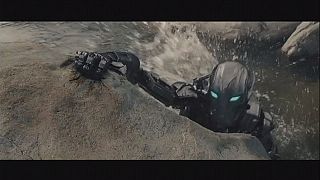 The lucrative Avengers franchise is back with the first of the season's family block-busters. This time, Iron Man, Captain America, the Hulk and the Black Widow love up to battle the evil Ultron and save the world.
Joss Whedon returned as the writer and director, and says the characters are all fully-rounded: "Everything in this movie is about balance – between the characters, between light and dark, between action and dialogue, between good and bad, between dark and light. And all of it is hard. FIlm-making is hard. Storytelling is something that you are doing for the first time every time you do it."
The badie, Ultron, starts life as an artificial intelligence software designed to protect the earth. But the programme gains autonomy and self-awareness and immediately decides to destroy everybody on the planet.
Robert Downey Jr said that he knows his character so well, he is beginning to think like him: "In one way it keeps you from focusing on yourself too much which is really dangerous if you're a borderline narcissist anyway. The other cool thing about it is you get an education. At this point I know all the players so well. All the men and women who have been making these movies really work from A to Z. I like that side of the camera."
"Avengers: Age of Ultron" will be on screens worldwide from 22nd April.
For more information see http://www.imdb.com/title/tt2395427/releaseinfo?ref_=tt_ql_9