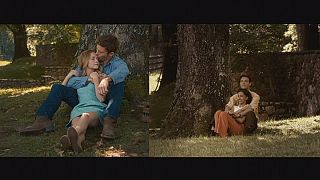 Based on Nicholas Sparks' bestselling novel, 'The Longest Ride' tells the story of two couples.
College student Sophia and former bull-riding champion Luke are in love, but conflicting paths and ideals threaten to tear them apart. As the couple ponder their romantic future, they find inspiration in Ira, an elderly man whose decades-long romance with his beloved wife withstood the test of time.
Told in flashbacks, his love story stars Alan Alda and Oona Chaplin:
"What was really beautiful about this film, is actually making a commitment, a real commitment, not just something on the surface," says Oona Chaplin.
"I think you're right. I think too many people get married now thinking, 'Well, if it doesn't work out I can always send him back to Amazon'," says Alan Alda.
The film explores the challenges and rewards of enduring love. In real life, Alda has been married to his wife for 58 years, but says he doesn't have any tips to share about how to navigate decades as a successful couple.
"I don't think there's a secret. I think you do have to be in love, whatever that is, which means to a great extent that you have to root for the other person. You have to really want them to succeed, to get what they need to be happy, to feel whole. And the other person has to want the same for you, it can't be a one-sided thing. You have to be lucky," he says.
Also starring Britt Robertson and Clint Eastwood's son, Scott, 'The Longest Ride' has opened to mixed reviews with one critic calling it dumb, long and dull, while another promises Nick Sparks fans that this 10th adaptation sticks to the proven winning formula.
'The Longest Ride' is on global release from now.