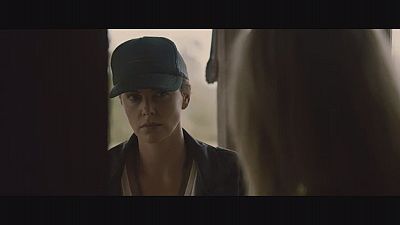 Based on the novel of the same name by best-selling author Gillian Flynn, 'Dark Places' tells the story of Libby Day who witnesses the murder of her sisters and mother. The sole survivor of the massacre, she later testifies in court against her own brother.
Twenty-five years later, Libby meets a group of amateur investigators who claim her brother is innocent.
At the film's premiere in Paris, Theron said she was already a Gillian Flynn fan before she was approached for the movie: "I read 'Sharp Objects' and I really liked it. I really liked her voice and so when this came to me I already knew that work and I knew that I was excited to read 'Dark Places.' I started with the screenplay and then read the book afterwards and I was just really blown away by it. I thought it was such a great hybrid between a family drama that really married so well with this thriller," she said.
British actor Nicholas Hoult plays Lyle, a true-crime enthusiast from a secret society intent on solving notorious crimes, who is convinced Ben Day is innocent. No stranger to dark roles, rising star Chloë Moretz plays Ben's one-time girlfriend, Diondra.
The film is a labour of love by French director Gilles Paquet-Brenner, who also adapted the screenplay.
"As a French director, I wanted to make the film that I had had in my mind for years, so sometimes you have to discuss things and it takes time. It takes time to impose your ideas. But what I want to make clear is that even though it took time and was sometimes difficult, the film that you have today really is my film," said the director.
If you enjoyed the Oscar-nominated 'Gone Girl', also based on a Gillian Flynn novel, this might be a film for you.
'Dark Places' starring Charlize Theron, Nick Hoult, Chloë Moretz and Christina Hendricks, is released across Europe this month.