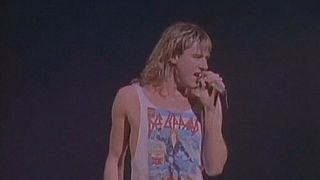 They are one of the best-selling bands of all time, with more than 100 million albums sold worldwide over a career spanning more than three decades.
As they prepare to launch their latest record, iconic English heavy metal band Def Leppard are setting off on a world tour that will take them through Europe and North America.
For frontman Joe Elliott, there is no sell-by date for a band like his: "Age doesn't matter anymore. That's the one thing that's become a pattern over the last seven or eight years. With McCartney still out there and the Stones still out there, and even Aerosmith and AC/DC getting up there, Billy Joel, Elton John… These are people that have been around since the Sixties, and they're still selling stadiums out. Nobody else seems to be coming through to take over. They're not stepping aside, they're fighting. They're fighting us, and we're fighting the generation below us," he says.
Founded in 1977, the band has lost of one of its members to drug abuse. Guitarist Steve Clark died of a fatal mixture of drugs and alcohol in 1991.
According to Elliott, moderation is the recipe for longevity: "It's more important for me that I try to sing the best that I can, and the best way to do that is to not put anything stupid into your system. And the older you get the less you need to. You just get fed up with it. At the end of the day, 'Sex, drugs and rock&roll', the first thing that needs to go out of that phrase is the drugs," he says. "I think the most important thing is that people walk away from the gig going 'Wow, they're as good now as they ever were!'"
And for die-hard fans, the band has also announced a unique 'Hysteria on the High Seas' cruise scheduled for January 2016, which will set sail from Miami with stops at Half Moon Cay and Freeport in the Bahamas.