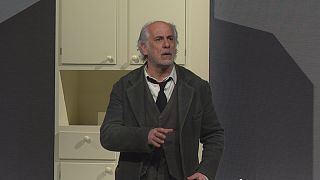 Best known for playing the lead in Paolo Sorrentino's Oscar-winning 'La Grande Bellezza', Italian acting legend Toni Servillo is currently on a worldwide theatre tour with 'Inner Voices', by Neapolitan playwright Eduardo De Filippo, in which he plays the lead, in addition to directing.
Servillo's latest stop as part of his world tour was the Théâtre des Céléstins in the French city of Lyon.
"Theatre as an art form is one of these happy moments in which it's still possible to express both the individual and the collective dimension of life, in a powerful and effective manner. It would be terrible if there weren't people who cared about these outposts of civilisation," he told euronews reporter in Lyon Diego Giuliani.
An insightful black comedy, 'Inner Voices' highlights the corruption of human relationships in the aftermath of World War Two. Confusing a dream with reality, a man accuses his neighbour of murder. His mistake triggers a chaotic chain of events, where family members start doubting each other as suspicion and betrayal sets in and the lines between right and wrong get blurred.
"In this comedy, which is probably the most bitter piece by Eduardo, men are resigned to a life of crime, to the point that crime is seen as legitimate behaviour. It's a story about a deeply disoriented society – always at risk of falling into immorality – which, unfortunately, faithfully portrays our own society," said Servillo.
Toni Servillo set up his first theatre company at the age of eighteen. Theatre has been his life ever since. He has also regularly appeared in movies since the early 2000's.
"No, it doesn't feel schizophrenic," he said of his double career choice. "I enjoy having the opportunity to perform both in theatre and in cinema, with the same passion and goals. It allows me to meet different audiences and to experience theatre not as something occasional or, even worse, as a waiting room, in the hope that it will pave the way to success for me in cinema."
In the past few years, success has indeed come his way. In 2008, Toni Servillo was named Best European Actor by the European Film Academy for his lead roles in 'Il Divo' by Paolo Sorrentino and in Matteo Garrone's 'Gomorrah'.
The actor teamed up again with Paolo Sorrentino a few years later for 'La Grande Bellezza' ('The Great Beauty'), which won the Oscar for Best Foreign Language Film last year.
"Since that beautiful night, I have only performed for the theatre. I think it's quite clearly a sign that you must welcome this kind of award with great enthusiasm, but it's also important that from the very next day you go straight back to work without getting drunk on success," he said.
Faithful to his word, Servillo didn't take time to celebrate his Academy Award and was back on stage the following day. After Lyon, he will be performing the two final legs of the 'Inner Voices' tour in Budapest and Warsaw. He says there is a lot to learn from Eduardo De Filippo's work.
"Eduardo had dedicated his whole life to his job with an integrity, consistency and devotion, which are in keeping with his moral vision of life. I think that if those in positions of power in society had the same determination, the same love as Eduardo has for his craft, things would work much better," he concluded.