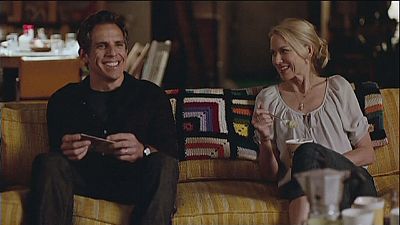 'While We're Young' stars Ben Stiller and Naomi Watts as a middle aged couple who find their stagnant lives reinvigorated by their friendship with a couple of twentysomething hipsters.
Oscar-nominated director Noah Baumbach is known for his portrayals of dysfunctional relationships and this latest movie is no different.
"I had many ideas sort of floating around that I hadn't found a place to put. One idea I was thinking a lot about was couples and wanting to make a movie about couples and how they interact with each other. How they project their own stuff onto each other, how they might romanticise how the other couple is doing versus them, or they get critical of the other couple, and somehow that found its way into this sort of generational comedy," says Baumbach.
Forty-six year old Watts admits that part of the reason she joined the cast was because many of the film's topics hit home for her:
"When you see a couple making out in front of you at a dinner table, on one hand you're going, 'Oh that's a little awkward.' But at the same time you go, 'Wow! Why don't we do that anymore?' You feel like, 'Are we giving up on ourselves here? Can we be more exciting?' And they sort of reawaken that spirit in us which is great for a while. But then it sort of becomes… I don't know if their interest in us is that authentic… Are we just of meal ticket for them?," she says.
The film has mostly amused critics who have described it as Noah Baumbach's most accessible and amusing work and a near-perfect portrait of two conflicting generations
'While We're Young' is on global release from now.