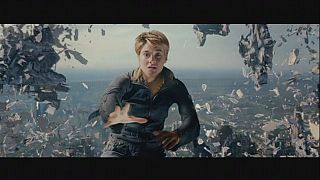 Shailene Woodley and Theo James are back as Tris and Four in 'Insurgent' – the second instalment in The Divergent Series.
The film is set in a dystopian post-apocalyptic Chicago where society is split into factions according to traits and talents.
As "divergents", Tris and Four can't be put in a box and are therefore considered dangerous by the ruling elite.
"I love playing this character. I love her strength. It was fun in this movie and it was different than in 'Divergent.' In 'Divergent' you could sort of tell where she was at and in this movie she really keeps people at bay and she keeps her emotions a secret until they bubble up and they can't be a secret anymore and I think that that's very relatable," said Shailene Woodley.
The plot takes place three days after the previous installment and follows the pair, who are on the run and looking for allies to uncover the secret that Tris' parents died to protect.
"I genuinely like playing him because, to me, he's full of nuance, kind of a masculine guy but also a quiet, slightly damaged, different person. So it's fun getting back into that," said Theo James.
The stars were back in London for the film's world premiere, which is based on Veronica Roth's best-selling trilogy.
The 26-year old author is already working on a new series: "It's going to be two books, hopefully out in 2017. It's kind of Star Wars-esque. It's about a young man who unites with someone who's supposed to be his enemy so that he can get revenge. That's all I can say right now," she said on the London red carpet.
Described by one critic as a deja vu episode that feels like a hurdle the franchise must clear before moving on to its two-part finale, the film has opened to mixed reviews with another praising the strong returning cast led by Shailene Woodley, the slick direction from Robert Schwentke, and impressive (special) effects.
'Insurgent' is on global release from March 18.