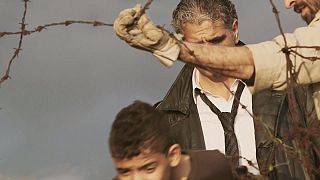 The International Film and Forum For Human Rights has come to a close in Geneva.
This year's edition featured more than 40 movies including 8 premieres, under the presidency of former football star-turned filmmaker Eric Cantona.
The aim of the festival is to highlight violations of human rights through films and discussions, bringing together a broad range of human rights actors including filmmakers, militants and victims.
"This was an extraordinarily successful year, the atmosphere was electric. Increasingly, people need and want to be told stories, after seeing the films they want to talk about them, discuss, find solutions and get together around the question of human rights," said festival director Isabelle Gattiker.
The Grand Prix went to Italian documentary 'On the Bride's Side' by Antonio Augugliara, Gabriele del Grande and Khales Saliman Al Nassiry, which was made thanks to crowd-funding and the help of friends.
It tells the story of five Palestinian and Syrian refugees who enter Europe via the Italian island of Lampedusa after fleeing war in Syria. Del Grande decides to help them complete their journey to Sweden by faking a wedding. With a Palestinian friend dressed up as the bride and a dozen or so Italian and Syrian friends as wedding guests, they travel halfway across Europe on a 3,000 kilometre-journey.
"People put their trust into smugglers, they risk their lives crossing the sea, thousands have died. In this movie, by helping the migrants, we broke immigration law, it was an act of civil disobedience. Our goal was to invite the authorities to think about the need to change the law. The film is not only an act of civil disobedience but also a fantastic story about friendship and solidarity among people from all over the Mediterranean," Del Grande told euronews reporter Wolfgang Spindler.
On behalf of her Foundation for Peace and Reconciliation, opera soprano Barbara Hendricks handed out the festival's second prize to French documentary 'Spartacus & Cassandra' by Ioannis Nuguet.
It follows the fate of two Roma children who live in an illegal circus in France. When they are discovered by the authorities, the children face an unbearable choice – to join their parents who live on the streets, or accept a foster family and have a roof over their heads and a chance to go to school.
"For me, it's about our life, it's a reference point in our lives, it follows our journey from when we were small – it's a film about our family," said Spartacus Ursu.
"It has offered us the opportunity to travel. It has brought us here, and that's great," added Cassandra Dumitru.
The Grand Prize of the World Organisation Against Torture, given to a director whose film shows strong committment in favour of human rights, went to French film-maker Manon Loizeau for 'Chechnya, a war without traces'.
Loizeau, who has covered Chechnya since 1995, returns to try to throw light on state crimes and disappearances perpetrated since Vladimir Putin became president in neighbouring Russia. The reporter patiently collects the words of those who continue to resist, and try to remember.
"Today, Grozny is a mix between Dubai and Las Vegas, there isn't a single trace left of the war. It's not easy to make a documentary. We had to travel there about a dozen times. Anyone who speaks to us is taking a risk, nobody dares speak out anymore. It truly is a dictatorship, so anyone who dares say anything is very, very courageous," she told us.
Doubly awarded at the festival, picking up the Grand Prize Fiction and Human Rights and the Youth Jury Award, 'Charlie's Country' is a bittersweet exploration of the Aboriginal people's difficulty in finding their place in post-colonial Australia.
"The International Film Festival and Forum for Human Rights is evidence of the important socio-political role of documentary films in our society, opening up discussion about issues that reflect the darkest sides of our world," said euronews reporter Wolfgang Spindler.