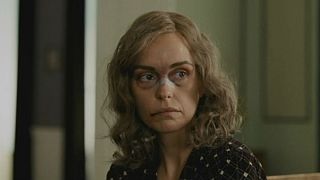 'Phoenix' sees German director Christian Petzold reunite with his muse Nina Hoss for this poignant, perfectly executed film-noir.
Emerging from the concentration camps with horrific facial scars, Holocaust survivor Nelly receives plastic surgery. When she tracks down her husband in Berlin, he fails to recognize her.
Rather than revealing her identity, she allows him to believe she's dead, and even goes along with his macabre scheme to have her pretend to be herself so he can claim her inheritance.
Nina Hoss is remarkable as the damaged Nelly, who, despite all the signs that it was Johnny who betrayed her to the Nazis, keeps finding excuses for him in her bid to reclaim her lost past.
While the narrative undeniably requires a generous suspension of disbelief, the surreal scenes between wife and husband reflect how people deal with the absurdity of war in different ways.
A powerful post-Holocaust drama, 'Phoenix' will stay with you long after you have seen it.