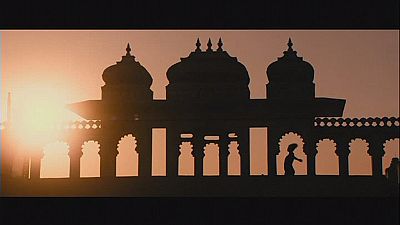 Following the success of the the first film which became a surprise box office hit, 'The Second Best Exotic Marigold Hotel' follows a group of British pensioners who have decide to outsource their retirement to India.
Maggie Smith, Judi Dench, Bill Nighy and Celia Imrie reunite for the follow-up under the direction of John Madden.
"It was nicer going back, because we had calmed down a bit. Because it is a shock when you go to India, or anywhere new I suppose, but India perhaps more than other places. And it was nice to go back in a calmer way and just enjoy it," said Bill Nighy about returning to India to shoot the sequel.
"It's quite a spiritual place, really. And it's quite a humbling place too, because we get so wound up with material things in our lives and, you know, they have nothing, but they're full of joy," said Celia Imrie.
Faithful to the first film's philosophy, 'The Second Best Exotic Marigold Hotel' conveys the same message – that life is there to be embraced, no matter how old you are.
"I think it's taught me – as much as I loathe being the age I am – it's taught me to just get on with it and make the most of every second. Because actually, we don't know how long we've got," said Celia Imrie.
This was echoed by Dame Judi Dench: "Don't stop doing anything. Don't think that you can't do something. Try, and if it doesn't turn out to be the same thing, it might turn out to be another."
A new addition to this movie is US actor Richard Gere, while Dev Patel reprises his role as the young entrepreneur who pursues his expansionist dream by opening a second hotel.
The film has opened to mostly positive reviews with critics calling it a "slightly reshuffled replica" that gives the punters exactly what they want
Out in the UK and Ireland this month, 'The Second Best Exotic Marigold Hotel' is on worldwide release from March.