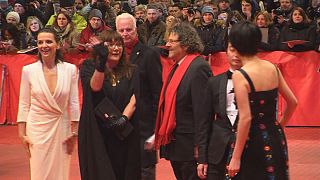 The 65th Berlin International Film Festival has officially opened with a glamorous red carpet festooned with stars.
Jury members, including French actress Audrey Tautou, German actor Daniel Bruhl and headed by director Darren Aronofsky, mingled with the stars of the opening film 'Nobody Wants the Night' by Spanish film maker Isabel Coixet, only the second female film director to open the Berlinale in its history.
French actress Juliette Binoche, who plays the lead, said: "I don't choose a film because it is by a woman or a man, it is the artist. And Isabel Coixet is a real artist."
'Nobody Wants the Night', is a survival movie about two women, the wife of North Pole explorer Robert Peary, played by Binoche, and an Inuit fighting for their lives together in a snowbound shack.
Shooting took place in the remote Norwegian village of Finse, a stunning location which has in the past doubled for the South and North Pole, and Siberia.
"If a movie requires that you have to be in the cold, you know, with no toilet, no food and no coffee, I will do it. In real life? No, in real life I prefer the beach," laughed Coixet.
'Nobody Wants the Night' is one of the 19 films in competition this year.
Isabel Coixet has already participated in the Berlinale six times and was a member of the jury in 2009.