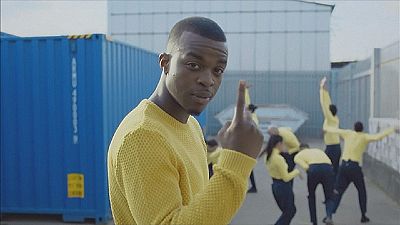 He has described his poetry as a reaction to the materialism and clichés of modern rap.
And it looks like his brand of inspirational music could help catapult George The Poet to fame.
A Cambridge graduate who grew up on one of London's roughest estates, George Mpanga was runner-up for the coveted Brit Award Critics' Choice, which helped launch the careers of stars like Adele and Sam Smith.
His single '1, 2, 1, 2' is all about offering guidance to the young generation.
"The idea is to unlock everyone's potential. I don't think society encourages people to just be who they are for what they want. I think society's like 'Oh you can be who you are, after you've done everything that we need you to do,' which doesn't quite work for everyone because not everyone fits into a conventional career path, for example myself, which is why I'm doing what I'm doing," says the young artist.
George's poetry is informed by his background growing up in inner-city London and by the Politics, Psychology and Sociology degree he studied at Cambridge.
As a student he helped fund poetry workshops for underprivileged school kids in London.
He says now is time to give back.
"I'm very keen to contribute to society in a constructive way and because my environment growing up didn't encourage that, I became very conscious of it and I was looking for the person to show me how to do it. I couldn't find that person growing up, especially not in a public space. I found some people like that later on in my life, but I thought, 'The minute I get famous, I'm going to promote that, I'm going to make sure I am that person, so that any kid that grows up in a place like where I grew up just knows that doesn't have to dictate your outcome.'"
Described as a modern-day poet with a conscience, George the Poet hopes to provide an attractive and influential alternative to stereotypes, and help open up the music market to young talent.
George the Poet launches his UK tour on 19th February.