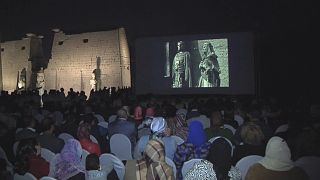 The third edition of the Luxor Egyptian and European Film Festival is underway.
Screened at the opening ceremony, 'The Loves of Pharaoh' by legendary German film-maker Ernst Lubitsch, was recently restored after having been lost for decades.
Set in ancient Egypt, this epic movie features lavish sets and costumes and a massive cast. Emil Jannings, who won the first Academy Award for Best Actor, stars as the brutal pharaoh Amenmeses, who leads his country to war for the love of a Greek slave girl.
Restoration of the film was done in Germany by Thomas Bakels, who has digitally restored other classics like Fritz Lang's 'Metropolis' and Orson Welles' 'Citizen Kane'.
"I think Egyptian topics and Egyptian history always played a big role in international films, with or without 'The Loves of Pharaoh', there are so many films about Egypt, because it's the common culture that everybody has from Europe, all of Europe is based on Egyptian culture and Roman culture," Thomas Bakels told euronews' correspondent Mohammed Shaikhibrahim.
The ceremony was an opportunity to pay tribute to legendary Egyptian actress Ninochka Manoug Kupelian, better known by her stage name Lebleba.
"It's wonderful that this festival should be held here in Luxor, one of the most beautiful places in the world, with its ancient archaeology near the Nile river," she told euronews.
Twelve films are vying for the top prize in the official competition. The festival also features a short film contest and a panorama of productions from Arab countries.
In all, more than sixty films from seventeen different countries are being screened at this year's edition.
Young film-makers will also have a chance to take part in cinema workshops, as part of the Transformation partnership projects funded by the German foreign ministry to support Egypt after the 2011 revolution.
A special tribute is also being paid to French cinema, divided in four categories, including movies by the president of this year's jury, Yves Boisset, French New Wave classics, seven films by women directors and French animation.
"The main goal of this festival is to promote cultural exchange and dialogue between different cultures, with art as a common language between nations," said euronews' correspondent in Luxor, Mohammed Shaikhibrahim.