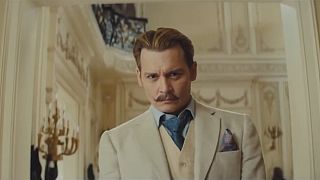 A Goya painting which has been sent to be cleaned has gone missing. That is the starting point for the action comedy movie 'Mortdecai'.
It stars Johnny Depp as a debonair art dealer and part time rogue who travels the world armed only with dollops of charm and striking good looks in a bid to find the Goya, which it is rumoured contains the code to a lost bank account filled with Nazi gold.
The movie is based on a popular trilogy by English author Kyril Bonfigliolo.
"When I read the book, like 10 years ago, the character was such a beautiful kind of.. in a weird way, kind of pure but he's a sleaze. He's a little bit shifty – particularly in money matters," Depp told reporters on the red carpet at the film's London premiere.
The movie also features Gwyneth Paltrow and Ewan McGregor and is directed by David Koepp, who as a writer has worked on blockbuster Hollywood films such as 'Jurassic Park', 'Mission Impossible' and 'Spider-Man'.
"I think you don't so much direct Johnny as you witness the release of a new character like a lunatic released from an asylum," Koepp said.
The film is the third collaboration between Depp and English actor Paul Bettany, who plays the valet of the aristocratic art dealer.
"I've never had so much fun on a film set and usually when movies end, your're kind of glad and desperate to go home and this one I was really sad that it was over," Bettany said.
The film is now on worldwide release.