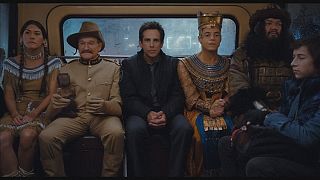 'Night at the Museum: Secret of the Tomb' is the third in the comedy series starring Ben Stiller as the famous museum night guard.
In this story, Ben Stiller's museum security guard Larry finds himself travelling to the British Museum when the magic powers of the Tablet of Ahkmenrah, an ancient Egyptian artefact, begin to fade out.
The movie sees the return of many familiar faces including British actor Ricky Gervais as Dr. McPhee, the curator of the Museum.
"Actually, he was the first human being I ever worked with in one of these movies because we were shooting with all the creatures and everything for the first few weeks, then Ricky showed up and I was like, oh great, another actor," said Stiller at the film's London premiere. "But that wore off very quickly and I was like, where are the creatures?", he added with a smile.
"Think of that, so he'd spent three weeks running around with tennis balls and he was happy to see me. So basically, he's saying I'm better than a tennis ball. So that's what actors compete with," replied Gervais.
The film sees Ben Stiller's long-suffering guard Larry joined by Robin Williams in his final role on the big screen. A party led by Larry embarks on a night time quest in London to save the tablet's powers, which are responsible for bringing the museum's characters to life when the sun goes down.
Despite being labeled as the last film in the franchise, director Shawn Levy admits that nothing is set in stone: "You know what – right now it feels like we're bringing things to a close and it feels like an appropriate closure, but I suppose if the world embraces this new one the way they have the prior ones, we shall reconsider," he said at the London screening.
'Night at the Museum: The Secret of the Tomb' has garnered mostly positive reviews with critics describing it as a "good-natured and entertainingly surreal panto fantasy".
It is on worldwide release from now.