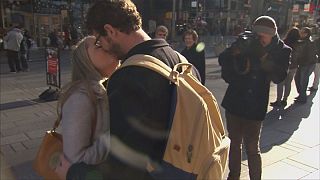 'I'm like a spy,' says self-appointed engagement photographer Vlad Leto.
For the past few years, the 30-year old Russian has been secretly taking photographs of marriage proposals at his clients' request all over the Big Apple. Using his long-lens camera, the New York trained photographer pledges to "take pictures discreetly while you get down on one knee, emphasizing his/her look of surprise".
And he says he himself gets butterflies in his stomach every time: "When I take these pictures, I feel almost the same emotions as the couple. I feel as nervous as this guy is about how to get down on one knee. I feel how he's waiting until she's going to say 'Yes' or maybe she's going to say 'No'," he says with a smile.
Leto has been an events photographer for a decade, and started taking pictures of proposals about three years ago following a client's request. He says clients come from all over the world to New York City to propose.
His best month is December, which according to 'Brides Magazine', is the most popular month to get engaged, with one fifth of all engagements happening that month. Nearly half of all proposals take place during the so-called "engagement season", between November and February.