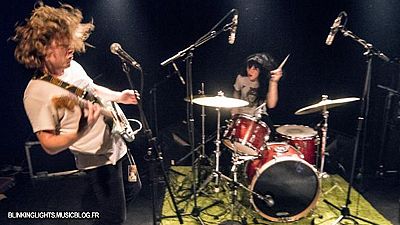 Your correspondent dozed for much of the first half of the year, but returned to the fray with a vengeance after the summer break and made up for lost time with some fab discoveries it is now time to share with you. So, in no particular order, here are the records I've been driving some of my colleagues nuts to buy.
tUnE yArDs – "Nikki Nack"
For the second year running Merill Garbus releases a jaw-droppingly inventive album stuffed with glorious songs, and live she proved she and her band are the real deal, too, putting on a show in a grimy French anarchist semi-squat, whose organisation she supports so much it was her third visit. "Real thing" is just one of the album's jewels.
Bass Drum of Death – "Rip This"
OK, I admit it, I fell for the band's name as soon as I heard it, and took the plunge. After the first track I feared I had bought into heavy metal hell, but fortunately the boys have a keen pop sense and wicked melodies. A bit more substantial than simply this year's Datsuns, if anyone remembers them, even if it's only half an hour long. Would sit nicely in your collection next to The Replacements. "For blood" will do nicely.
Jamie T – "Carry on the grudge"
Jamie's inventive DIY style gets a major production kick up the arse, and while "Carry on…" may lack the low-fi charm of his earlier efforts, it more than makes up for it with polish, strong, strong songs, and superb performances from all involved. And I love the way on "Turn on the light" the chorus gets all Richard Thompson-ish.
Angel Olsen – "Burn your fire for no witness"
How many of the greats is this slip of a gal channeling? Imitation is the sincerest form of flattery, but Angel is her own woman, with her own words, even if sometimes she sounds like Patsy Kline, Roy Orbison or Leonard Cohen. Exactly the sort of record people who say they don't like folk or country should cock an ear to, and why not start with "Hi-Five"?
The Growlers – "Chinese Fountain"
They were playing in my town, so I had a listen before going, enjoyed the show even if they suffered murder by mixing desk, and bought the record at the gig. One of the great surprises of the year, Californian stoners by reputation, but tight live and with a great bassist they are a cut above the rest. In 2014 they lost home and studio to a fire, but warmed our hearts. The title track is a little atypical, and could almost be the Happy Mondays…but with a proper singer.
Ty Segall – "Manipulator"
My personal favourite of the year and the one I want to turn up to 11 all the time. Ty is 26 and I knew nothing about him before October, but now I want to have his babies. Yes it's a bit hippyish and he's another artist who is ploughing the psychedelic revival for all its worth, but injecting 21st century grit along with the patchouli and flowers. Plus, he's very very busy. His album with White Fence, "Head" is also superb. "Green Belly" is perfection in less than three minutes.
The Brian Jonestown Massacre – "Revelation"
For over 20 years Anton Newcombe's not-so-merry band of men have been keeping music evil, to a more or less indifferent public which has missed out on their musical riches and prolific output. Will "Revelation", the groups first album recorded entirely in Anton's Berlin studio, bring them the success that has eluded them so far? In fact, you know them already if you watched "Boardwalk Empire", as the show's theme tune is theirs. "What you isn't" is simply awesome.
Azealia Banks – "Broke with expensive taste"
Yes, we had to wait an age for the album to drop, and we've heard much of what's on it already, but who cares? The beats come thick and fast and the only quibble might be "212" is here in its shorter version, but it is far from being the album's only bangin' track. Try "JFK", for example.
King Tuff – "Black Moon Spell"
A perfect example of the wonders of the web, one of those groups suggested as "you might like this" while you are listening to something already. Riches are just a click away for the curious nowadays. We are no longer prisoners of DJ's choices and it has never been so easy, or cheap, to explore and discover. Unashamedly good time music fills its grooves, like "Eddie's Song"
Sleaford Mods – "Divide and Exit"
The UK's finest minimalist ranters get a slightly slicker production with which to paint their dribbled Lowry portraits of modern Britain. It is bleak yet funny, desperate yet joyful somehow in their refusal to settle down and be normal like the rest of us. It's hard to be more stripped-back than this, although the Mods lay down beats that would pack any dancefloor. "Tied up in Notzz" shows them at their deadpan best.
Zapaska – "Shkolyarska"
Here's one very few of you are likely to have heard, and proof, if any were needed, that something is stirring in the farthest, eastern reaches of Europe. From Ukraine, they are one of the biggest groups in Kyiv, (stop giggling at the back), and while far from the centre of the musical world their sounds are in the vanguard of what people dig nowadays. Very cool.