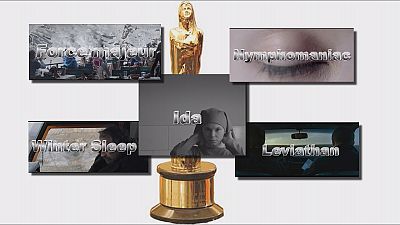 The European Film Awards are rolling out the red carpet for Europe's leading cinema talent. Boasting some impressive names from across the continent, this year's edition sees five films competing in the Best Film category.
Polish director Pawel Pawlikowski's 'Ida' leads the race with five nominations including Best Film, Best Director, Best Screenplay and two Best Actress nods for Agata Trzebuchowska and Agata Kulesza.
'Ida' tells the story of Anna, a beautiful 18-year-old preparing to become a nun as she discovers her true identity.
Russian director Andrey Zvyagintsev's 'Leviathan' follows with 4 nominations including Best Director and Best Actor for Alexey Serebryakov.
A dark satire about life under Vladimir Putin, the film won Best Screenplay at the Cannes Festival earlier this year.
'Leviathan' is also Russia's entry for the Foreign Language Academy Award.
The winner of this year's Palme d'Or, 'Winter Sleep' is nominated for Best European Film, Best Director and Best Screenplay.
Set in Anatolia, Nuri Bilge Ceylan's film examines the divide between rich and poor, between those with and those without power in modern-day Turkey.
It too is vying for Best Foreign Language Film at the Oscars.
Also in the running for Best European Film is Lars von Trier's sexual drama 'Nymphomaniac Director's Cut Volume 1 and 2', with nominations for Charlotte Gainsbourg and Stellan Skarsgård as Best Actors.
The controversial movie is the third and final entry in von Trier's unofficially titled 'Depression Trilogy', following 'Antichrist' and 'Melancholia'.
And finally, Swedish family drama 'Force Majeure' has received two nominations for Best Film and Best Director for Ruben Östlund. It is also in the running for Best Foreign Language Film at the upcoming Academy Awards.
Following a vote by the European Film Academy's 3,000 members, the winners will be announced in the Latvian capital Riga on December 13.