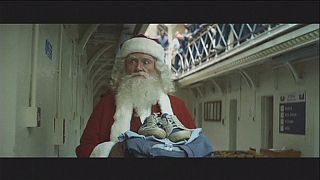 "Get Santa" is the story of Father Christmas who crashes his new sleigh while test-driving it and is discovered in a garden shed by nine-year-old Tom.
When Santa is arrested and thrown into prison, it seems like Christmas may have to be cancelled.
British director Christopher Smith, best known for horror films like 'Creep' and 'Black Death' says he fancied a change: I just want people to be able to laugh – properly laugh – at stuff that's funny for both adults and kids and some stuff that's funny for just kids and some that's just for the adults. I feel like we can take more risks," he says.
"So I tried to give them a story that they can take away where they laugh but there's also a message there as well, which is a nice, family Christmas message but a message, not just airy-fairy stuff."
British acting legend Jim Broadbent is Santa, with newcomer Kit Connor taking on the role of Tom, the boy who decides to come to Santa's rescue. He enrolls the help of his estranged father, ex-con Steve, played by Rafe Spall, himself a father-of-two.
"It's the sort of character that I would have been interested in playing in another film, maybe not even a Christmas film. The idea of somebody coming out of prison, trying to do the right thing and reconnect with their son, to me is very moving," says Spall.
The movie has been mostly welcomed by critics who enjoyed the actors' performances, with special praise for Jim Broadbent described as
"irresistible in the role of Santa".
Facing tough competition from strong contenders like 'Paddington' and 'The Penguins of Madagascar', 'Get Santa' is expected to carve out its fair share of the Christmas season box office.