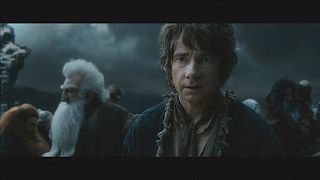 Middle-Earth fans were out in force for the world premiere of the final installment of the Hobbit trilogy in London.
Peter Jackson has been working relentlessly on his big screen adaptations of J.R.R. Tolkien's celebrated works since he started with 'The Lord of the Rings' trilogy in 2001.
At the London premiere, the New Zealand filmmaker said it's definitely time for a break: "A holiday… I don't know. I'll get through the extended cut and that'll be the first time in fifteen years that I can actually sit back and put my feet up for a while. Maybe a beach in Fiji sounds quite good, doesn't it? That would be quite nice," said the award-winning filmmaker.
'The Hobbit: The Battle of the Five Armies' tells the story of Bilbo Baggins on his quest with Gandalf the Wizard and the 13 dwarves to claim a vast treasure from the dragon Smaug.
The film also features a massive battle between an army of orcs and an uneasy alliance of elves, men and dwarves.
English actor Martin Freeman is back as Bilbo Baggins and said he enjoyed every moment of it: "I think you feel pressure that you put on yourself for any job that you do, because you want to be good. You know, you always want to do a good job but, no, what was nice about doing it in New Zealand as well was that you didn't feel, I didn't feel any outside pressure at all on any day about being this character," he said.
According to Ian McKellen, who has starred as Gandalf in both of Jackson's trilogies, the story is never really over: "Before these people were born (he shows the young crowd), we were making 'Lord of the Rings'. And that's a good sign isn't it? Because their kids are going to see the movies. It's not the end. Movies will carry on and on and on, being seen over and over again," he said.
Others major celebrities in the movie include Benedict Cumberbatch as Smaug the dragon and Evangeline Lilly as the elf Tauriel.
Delivering "exactly what it promised" according to critics, this final Hobbit installment is expected to "walk off with the dragon's share of the upcoming holiday-season box office".
'The Hobbit: The Battle of the Five Armies' opens worldwide this month.