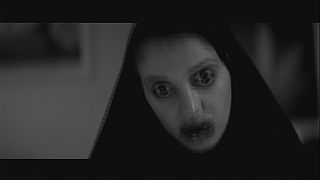 It has been billed "the first Iranian vampire Western".
'A Girl Walks Home Alone at Night' is the debut feature of British born filmmaker Ana Lily Amirpour, who also wrote the screenplay.
Shot in inky black-and-white, the movie stars Sheila Vand, best known for her role in Ben Affleck's 2013 Oscar-winning film 'Argo'.
"The film is about a lone vampire whose found herself in a fictional ghost town in Iran called Bad City, which is essentially full of the dregs of society, like prostitutes and pimps and junkies, and, in this dilapidated place, she finds a spark of love and she kind of finds this unexpected bond with this young boy who is also trapped in his own set of circumstances. But, of course, they're doomed star-crossed lovers because she's a vampire and he's not. So it's a love story as well as an Iranian vampire Western," says Vand with a laugh.
The film focuses predominantly on the romance between a lonely, skateboarding vampire credited as "The Girl" and a young, impressionable James Dean-lookalike named Arash. The movie is in Farsi with English subtitles, which Vand's bilingual upbringing prepared her for.
"I love the fact that it's in Farsi and I can't imagine it any other way," she says. "I mean, it's set in Iran so I think, actually, it's really rare. I have seen a couple of films that take place in a foreign country where the characters speak English and it always takes me out of it. I think it's more of an immersive experience when it's in Farsi. It's fun to act in Farsi, too, because it's this extra layer of costume. You sort of feel immediately transformed because the words coming out of your mouth are not the words you'd be using in your everyday life."
Produced by Elijah Wood, the movie has received mostly positive reviews on the film festival circuit since premiering at Sundance earlier this year.
'A Girl Walks Home Alone at Night' is on limited release now in the US.