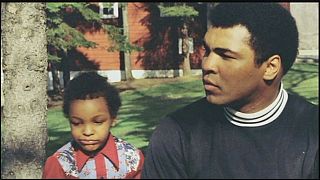 Muhammad Ali is considered by many to be the greatest heavyweight boxer of all time. Now, a new documentary, 'I Am Ali', examines the personal lives of the man himself, and his family. Director Clare Lewins had unprecedented access to Muhammad Ali's personal archive of audio journals as well as interviews and testimonials of family members, friends and boxing colleagues.
"For me it was bittersweet, he was famous in boxing when I was a kid, I had to share him with the world but at the same time the world loved him so we were able to receive the love and it was for the most part beautiful because people really admired him and we felt that and were proud of him," reflected one of his daughters, Maryum.
Another daughter Hana recalled her father's wise words: "I grew up going to school and bragging a lot, saying my daddy is Muhammad Ali, I can do what I want. And he used to sit me down and tell me just because you're famous the world is not going to treat you differently.
"They're going to treat you special, but you're no better than anybody else and the only thing that makes you greater than anyone is your heart, he said. So he caught it early and instilled values when I was really young. I think he made sure we had a good spirit and we knew that fame wasn't really what mattered."
The documentary has already been released in some countries in cinemas and on the DVD market. It has just been released in the UK and Ireland with more release dates due to follow.