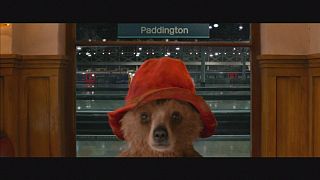 For nearly sixty years children and their parents have delved into the stories of Paddington Bear, written by Micheal Bond.
Now the bear from 'darkest Peru' is coming to the big screen with a stellar cast including Nicole Kidman and Hugh Bonneville.
Hugh Bonneville plays Mr Brown: "I can remember my dad and my mum reading the stories to me while I looked at the pictures, that's one of my earliest memories. And then because I loved the characters so much, reading the books when I was able to read, reading them for myself, and then inevitably because I got a bit older growing out of them and thinking it was a bit babyish but actually it's an endearing and enduring character for all ages."
The film is directed by Paul King, and initially Colin Firth was due to voice Paddington, but that didn't quite work out said the director:"Visually as our Paddington started to actually exist, it just sort of became quite difficult to marry Colin's quite deep and manly attractive chocolatey voice with this very small creature. And we tried a few things and we talked about it and eventually we just felt the two were never going to quite coalesce so I sat down with Colin over a marmalade sandwich and we decided to try another approach."
Paddington hits the screens across Europe in December.