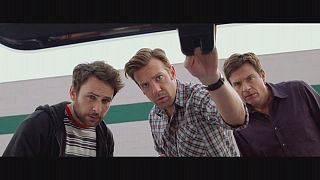 Why not kidnap to save your company?
Jason Sudeikis, Charlie Day and Jason Bateman do just that in the comedy sequel 'Horrible Bosses 2'.
When the disgruntled employees see their dreams of launching a business ruined by a rich investor, their only solution is to kidnap his adult son.
Jennifer Aniston also reprises her role as Julia, the sexually rapacious dentist.
At the film's European premiere in London, the actress explained that she was happy to move away from her often sweet-natured characters in order to play a boss with a voracious libido.
"You know, I felt shockingly comfortable", Aniston exclaimed. "I think because it's like putting on a big costume and just – you know – going as far against every fibre in my being that exists and just playing out all the fantasies of – you know – every sort of fantasy woman that we've ever imagined."
The trio's fledgling company aims to sell 'Shower Buddy'; a device dispensing soap, shampoo and conditioner from a single bathroom fixture.
Everything seems to be going swimmingly, until investor Bert Hanson cancels an order for 10,000 units.
This sends the company into bankruptcy, forcing them to sell the devices at a fraction of the wholesale cost.
Christoph Waltz plays the role of Bert Hanson:
"Well, it actually fulfills all the requirements of a great comedy because it has the silliness, it has – what I hear repeatedly – the raunchiness. If you choose to call it such. But it also has a very smart and, in a way, almost intellectual level that is hidden just underneath the surface and that's really the best a comedy can do."
The trio estimate that kidnapping Hanson's intolerably smug son Rex should net them enough ransom money to pay off their debt and remain in business.
'Horrible Bosses 2' is on worldwide release from November 2014.